Upcoming Events
Brisbane book launch at Avid Reader, Friday 23 June 2017, 6:00 PM - 8:00 PM , 193 Boundary St West End. Register at Avid Reader. There is another more relaxed affair, a BYO picnic in the park, Sunday 25 June 11:00AM - 2:00PM at Walton Bridge Reserve The Gap (inbound city-side). I'll be hosting a short nature walk and signing copies of the book which will be on sale at the picnic. BYO means bring something to eat and drink in a sharing sense, it'll be a casual affair. Both these events are open to everyone. Hope to see you, if not check out BOOKO.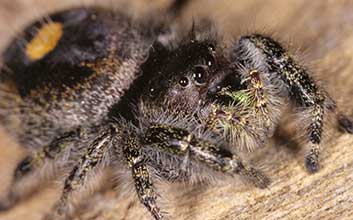 Phidippus audax (Hentz, 1845) Audacious Jumper
Finding this species in Norman Park, a suburb of Brisbane, Queensland, is unusual because it is a North American spider.

Do my legs look big in this?
This undescribed Afraflacilla sp. has enlarged leg-one segments and large spurs on the tibia and metatarsus.