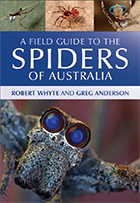 A field guide to Spiders of Australia CSIRO Publishing 2017, 2018, by Robert Whyte and Greg Anderson, is the most comprehensive account of Australian spiders ever published. In its 468 pages there are 1350 images, 78 families, 381 genera and 836 species. In 2018 CSIRO Publishing released the third printing, correcting a few errors we had found in the first two printings and updating names resulting from taxonomical changes to that time. Since then, scientific work has continued and given us more changes which we hope to record in this website. This a long, slow, never-ending process so apologies in advance if some information is still out of date. Meanwhile, you can consult a more up to date list of Australian Spiders on the Australasian Arachnological Society website, compiled by Volker Framenau or search the World Spider Catalogue. Links to these resources are in the footer of each page in this website. 2021 update Nephila in Australia has been changed to Trichonephila except for Nephila pilipes. The new genus Hortophora includes 13 species from the Australasian-Pacific region, with ten species known from Australia (five new to science) and Novakiella has been revised, now with two species. 2022 update: The Alien Butt Spider has had a genus name change to Bijoaraneus. The "Bijo" part is from the Japanese, meaning "beautiful lady".
To buy online click here for Booko
For the traditional book shopper, bricks and mortar bookstores including the Queensland Museum, major bookstores and similar outlets throughout Australia are usually well stocked. E-books and Kindle editions are also available.