About the book
This site is a web annex for "A field Guide to the Spiders of Australia" for CSIRO Publishing by Robert Whyte & Greg Anderson, due to appear appearing sometime around the middle of 2017. At last count there were around 1350 full colour photographs, photos of many species having never been published before.
Want to know more? Email Robert Whyte
If you would like to get involved you can (with the links provided in to the left) subscribe to updates (name and email only) or become a member to have a profile and interests.

Jumping spiders
These spiders also have bizarre sex. Their courtship displays feature a complicated ritual of leg waving, toe-tapping, abdomen twerking, and perhaps most bizarre and beautiful of all, wing flapping. Yes, some have brilliantly-coloured side flaps they can extend like wings to mesmerize their mates.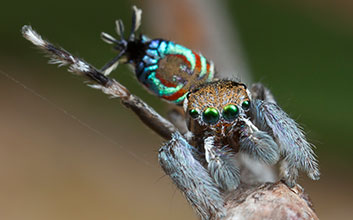 Maratus ottoi Photo: Jürgen Otto